Autumn 2
Titanic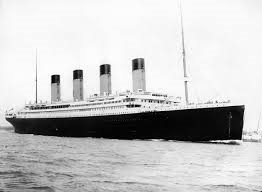 Year 5 will be focusing on the Titanic over the next half term and will use this as a stimulus across many different subjects. Each pupil will take on the role of a passenger for the duration of the term and will carry out research to find out key facts such as their cabin number, destination and class. Pupils will look at the grand design of the ship and will learn about its maiden voyage. We will focus in on the reasons that caused it to sink and will weigh up the facts and evidence that has come to light since it sunk in a bid to make our own decisions on who is to blame. In our topic lessons pupils will look into whether or not it was right for social classes to be treated differently aboard the ship and as to whether or not it was right for women and children to board the lifeboats before the men.
English:
English will be centered around the book called 'Titanic- an Edwardians Girls Diary 1912 (My Story)' written by Ellen Emerson White which tells the tale of a young girl aboard the ship. Pupils will learn about letter writing across the term, ending with them writing letters home to loved ones, again form the point of view of their passenger. Towards the end of the term, we will look at poetry, focusing on using metaphors and similes.
Pupils will continue to take part in separate Grammar lessons each week and will focus this term on relative causes, modal verbs, prefixes, suffixes and word classes.
In order to support your child at home please use:
https://www.topmarks.co.uk/english-games/7-11-years/spelling-and-grammar
http://www.funenglishgames.com/grammargames.html
Maths:
Maths No Problem will continue to be used and will focus on place value and the four operations. Alongside this, pupils will take part in Number and Lightning each week in order to enhance their arithmetic knowledge and confidence. Times tables will remain a huge focus in class as a sound knowledge of these will support the whole of the Maths curriculum. Each child has access to the PIXL times table app and should use this at home to support this. https://timestable.pixl.org.uk/Timestables.html
In order to support your child at home, please use:
https://www.topmarks.co.uk/maths-games/7-11-years/problem-solving
https://www.bbc.com/bitesize/subjects/z826n39
Science:
Our topic for this term is Forces. Pupils will look at gravity and air resistance, finding out how these work together in everyday life. We will look at the different forces that acted upon the Titanic and how they played a role in its speed and stopping distance. Pupils will carry out a range of experiments to test their predictions and draw conclusions.
Other subjects:
RE- What is the water of life?
MFL- Sports and our opinions
DT- Weaving
Music- Glockenspiels
Humanities- Comparing different climates, map work and comparing different social classes
PE- Invasions games and Gymnastics
Computing- We are Architects
Art- Watercolors
Key dates:
W/C- 12th November: Year 5 Gardening week
Monday 12th and Weds 14th November: Consultation evening
13th December – Christmas lunch 14th December - Christmas jumper day