Summer 1
Theme Parks
Our topic for the next term is Theme Parks. Every pupil will promote, create and run their own theme park. We will look at the perfect location and the effects that a theme park would have on the local area, both good and bad. We will design our new park whilst keeping within a set budget, create a logo and an advertising campaign to promote the brand new development to the community as well as preparing speeches to pitch their ideas to various companies and write letters to achieve sponsorship. As part of DT lessons, we will plan, make and evaluate a fair ground ride which will allow us to use our Science knowledge of electricity to make it work.
Key vocabulary:
Attraction, development, sponsorship, souvenir, property developer, employer, employee, construction, imagination, structure and skyscraper.
Maths
We will continue to use Number and Lightning to practice and maintain the high levels of arithmetic knowledge. Pupils will complete this once a week and will have one session a week that focuses on a set skill which they feel they need to work on. This will give pupils responsibility for their own learning and also allows them to see the progress they are making.
As well as focusing on arithmetic, pupils will be looking at ratio and proportion before moving onto perimeter and area- which will be used within our topic work to design and draw out a map of the new theme park.
Key vocabulary: ratio, proportion, proportional, scale, equal, perimeter area, length, circumference, volume, parallel, perpendicular.
English
English will link very closely to our topic this term which will allow us to write for various purposes and audiences. This will include a balanced argument to outline the key points for and against the construction of the theme park, a formal letter in order to achieve a sponsorship deal with a local company and a narrative based on an adventure within the park. Alongside these key pieces of writing, pupils will need to create a leaflet, persuasive text and a menu for the new restaurant within the park.
Key Vocabulary: persuasion, formality, cohesion, narrative, conflict, punctuation, audience and genre.
Grammar will be taught alongside English, both within the lessons and outside of. This will focus on any areas that are identified as needing to be reviewed as well as clauses, inverted commas, semi-colons and …
Key Vocabulary: colon, parenthesis, semi-colon, emphasis, pronunciation, Standard English and formality.
Guided Reading:
We will continue to use Cracking Comprehension as the basis of our Guided Reading lessons, looking in depth at a mixture of fiction, non-fiction and poetry. Pupils will continue to build on their annotations which enable them to gain a deeper insight into the text. Pupils have worked hard to develop their skills in prediction, linking the text and characters to their own experiences and visualising the text. As well as continuing to develop this, we will look at how to resolve a break down in meaning whilst reading, inferring based on a character's behaviour and actions and the ability to locate and understand keep vocabulary.
Key vocabulary:
Key vocabulary, inference, visualisation, annotation, analyses, characterisation and evidence
Core book:
Our core book for this half term is 'Mr Ferris and his Wheel' by Kathryn Gibbs Davies and Gilbert Ford (illustrations). This is a picture book that tells the true story of the American Inventor George Ferris and his desire to create the world's first Ferris Wheel. Not only does this book explore the steps taken to build such an iconic structure but it also shows that perseverance and hard work pays off. I hope it inspires the pupils to realise that anything is possible if you believe.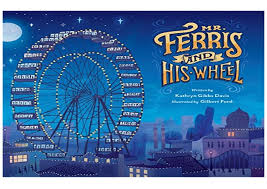 Other subjects:
Science- our focus in Science is Electricity. We will recap the different forms, create circuits and also look at which materials are good and poor conductors. In addition to this we will be learning the different symbols and the purpose for each part of the circuit. Our work in Science will then support us when we make our own fairground rides in DT.
Design and Technology – pupils will be planning, making and then evaluating a fair ground ride. Pupils will create a circuit so that is moves. Pupils will practice skills such as drilling, sawing, sticking and measuring throughout this process.
RE - Why is pilgrimage important to some religious believers? Pupils will be looking in depth at the places that have key significance to both themselves and for those within different religions.
MFL – Our work in French will be focusing on the future - this includes the next few weeks, months and years to come. We will look at how to form and pronounce sentences in order to talk about what we plan and hope for. This topic will then finish off with the reading of a book in French as well as answering some questions based on it.
PSHE – Safety and the Changing Body. This topic looks at how our bodies change as we get older and also at how a baby is conceived. In addition to this we will be looking how the menstrual cycle works, the changes that the body will go through when hitting puberty and the different parts of the reproductive system in both boys and girls. We will then look at the risks associated with alcohol as well a basic first aid.
Please note the following can be opted out of, and this request needs to be given in writing using the form that can be found in Appendix 2 of the RSE Policy.
- The biology of conception
- How a baby develops and birth.
Computing - we will be looking at how networks and the Internet can be used to share information and how we can design buildings to improve their efficiency. Pupils will also then be focusing on the potential problems with storing and sharing data online.
PE – Athletics and Cricket. Pupils will experience a range of different elements within Athletics such as discuss, hammer throw, sprinting, long distance, relays, long jump and triple jump. Within Cricket pupils will look at both striking and fielding. Looking at how to use both the long and short barrier as well as placement of the ball when batting.
Key Vocabulary:
Science – circuit, battery, switch, call, wires, motor, shot circuit and component.
Design and Technology – evaluate, plan, structure, measurement, construction, leavers, pulley and mechanisms.
RE- refuge, pilgrimage, significance, beliefs and sacred.
MFL – voudrais, Je vais, demain, et le future.
PSHE – Puberty, conceive, conception, alcohol drug, first aid, chocking and emergency.
Computing – network, programme, efficiency, smart house and data.
PE – aim, accuracy, placement, trajectory, propulsion, timing, communication and performance.
Key learning website:
Bedrock Vocabulary - https://app.bedrocklearning.org/
Read Theory -https://readtheory.org/auth/login
Agenda Web Guided Reading - https://agendaweb.org/reading/comprehension-exercises.html
Topmarks - https://www.topmarks.co.uk/
BBC Bitesize - https://www.bbc.co.uk/bitesize
My Maths - https://www.mymaths.co.uk/
Times Table Rock Stars - https://ttrockstars.com/
Go Noodle - https://family.gonoodle.com/
Cosmic Kids - https://cosmickids.com/
Key dates:
Start of term – 12/04/2021
Bank Holiday – 03/05/2021
Parent/Carer Consultation Appointments – Week Beginning 03/05/2021​
End of Half Term – 31/05/2021-04/06/2021