Summer 2
Under the Sea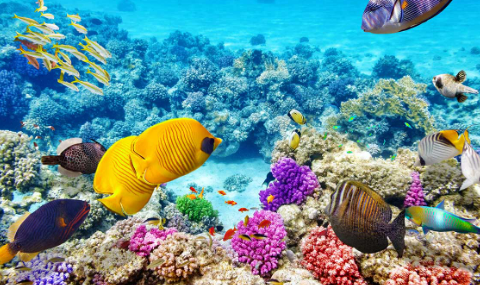 So we have reached our final term in Year 1. We are hoping to have some lovely sunny weather in keeping with our topic 'By the Sea'
Maths
We will begin with recognising, ordering, comparing and counting with numbers to 100.
For our time unit, the children will learn to tell the time to the hour, half past the hour, quarter past and quarter to. Finally, they will tell the time to five minutes.
Then we will move onto money. The children will learn to recognise the different coins and notes and then count with money.
Vocabulary: hour, minute, seconds, time, half past, quarter past, quarter to, pence, pounds, more, less, compare, order, add, subtract, least, most, fewer.
English
Our topic will be 'By the Sea'
We will read lots of great sea adventure stories or stories with sea creatures as the main characters. The children will write postcards from seaside holidays to their family. Linked with our science and history lessons, the children will read and write facts about sea creatures.
We will be looking at poetry and write shape poems about sea creatures. This will encourage the children to use lots of wonderful vocabulary, descriptive language and similes.
Non-fiction books about creepy crawlies will
Vocabulary: adjective, vocabulary, verb, noun, adjective, simile, fiction, non-fiction, capital letter, , pre-fix, bullet points, text, diagram, fact-file, suffix, title, headings, sub-heading, fiction, non-fiction.
Science
Each term we look at the seasons and changes around us. So we will look at summer and what we can notice on a summer walk. Our topic will be 'Under the Sea'.
We will look at different sea creatures, their habitat and diets. For example: dolphins, octopus, jellyfish, sharks, seahorses, blue whales. The children will be able to use their super reading skills to read factual information about these animals and create their own fact files.
Vocabulary: June, July, August, summer, changes, habitat, sea bed, rock pool, ocean, waves, tides, tentacles, gills, fins.
Computing
The children did so well with the last unit. They can now independently log on and create graphs and charts to record information such as minibeasts from a bug hunt. In this unit 'Digital Imagery' the children will plan and make their own picture story with a beginning, middle and end. To do this they will learn to take photos and edit them. They will use search engines to look for images of plants and sea creatures. They will make photo collages and finally their story at the end will bring all of these skills together.
Vocabulary : Background,blurred, clear, delete, device, digital camera, drag and drop, edit, editing software, image, internet, import, keyword, online, photograph, resize, save as, screen, search engine, sequence, storage space, visual effects.
Art and Design
The children will study the artists Edward Degas and Mary Cassatt who both created wonderful paintings of beach and seaside scenes with bathers. The children will learn to draw people by focusing firstly on faces and then parts of the body. They will then practice mixing coloured paints to find suitable colours. Finally, they will create a painting of the seaside with people on the beach, inspired by the famous artists.
Vocabulary: draw, sketch, shade, tone, paint, mix, details, features, posture, pose, accurate.
Music
Continuing our Under the Sea theme, the focus for our music sessions will be vocal and body sounds. The children will be creating movements that match the music and talk about why they are moving in that way.
They will identify descriptive sounds within the music and recreate these using their voice or body. When listening to the music, they will choose instruments to represent the sounds they hear. They will learn to control instruments and voices to make both quiet and loud sounds.
We will end with group performances using a graphic score that they have created.
Vocabulary:Body percussion, dynamics, graphic score, instruments, pitch, seaside, sounds, tempo, timbre.
History
Our topic for History will be: 'Seaside Old and New'
As we did with toys and then travel and transport, the children will look at how seaside holidays has changed over time. Each week we will look at a different aspect of holidays and how they were and how they have changed to now, comparing and contrasting. For example: clothing, foods, activities, beaches and entertainment.
Vocabulary: past, present, old, new, holiday, seaside, bathing costume, Skegness, Hunstanton, sandcastle, bucket, spade, Punch and Judy, donkey, pier, ice cream, ocean, port, harbour, cliff, coast, North Sea, English Channel, Celtic Sea, Irish Sea.
PE
The children are very excited to participate in Sports Day. They have been practising their running and athletic skills and will continue to do so this term. In addition to this, they will be working on dance for the half term. They will learn various new moves and balances. They will work in pairs and groups to create short sequences to make their own routines as well as joining in with whole class routines. Leading to an end performance.
Vocabulary: jog, sprint, run, race, lane, balance, sequence, routine.
RE
In RE we will be going back to finding out more about the Judaism and finding out more about how Jewish people live. The children already have an understanding of the Synagogue and Shabbat. We will now look at some important Jewish festivals in more detail.
Vocabulary: Hannukah, Judaism, Jewish, Shabbat, Synagogue, Passover,
PSHE
The topic will be 'Economic well being'
We will have an introduction to money which will link in with our money work in maths. The children will discuss ways to look after money. They will find out about banks and building societies and what they are for. They will learn about ways to save and spend wisely. We will look at the jobs in school and talk about employment and links to money.
Vocabulary: coins, notes, money, save, piggy bank, pocket money, invest, job,work.
Seesaw
I will continue to share our learning journey on Seesaw. I hope that you have enjoyed seeing what we do. I appreciate your feedback and comments and especially your support with the children's learning at home. If there are any other ways that we can help, please let me know what would be useful.
Behaviour
In our class we use lots of verbal praise and find this is the most powerful, recognising when children have made good choices in behaviour and explain why it was good. Effort and 'having a go' is highly praised and an understanding between all of us to act as role models and 'do the right thing' to share and be kind to one another to be a great team together. At the same time recognising that we all can make mistakes sometimes and that we are all learning.
After their day at school, you may like to ask:
'What was the best thing about today?' Use Seesaw as a way to start conversations about their learning from that day. Feel free to shower them with praise when they get home, they will have worked really hard.
Useful Websites
https://youtu.be/s6OiU2h3sUI This is a video of all of the sounds and how to pronounce them.
http://www.bbc.co.uk/education/topics/zf44jxs/videos/1
http://www.crickweb.co.uk/Early-Years.html
http://www.phonicsplay.co.uk/freeIndex.htm
www.oxfordowl.co.uk
http://www.ruthmiskin.com/en/parents/
Key Dates
w.b 6th June Year 1 Phonics Screening Check
29th June Sports Day
8th July Race for Life
12th July Reports come out to parents
20th July Summer Fayre